Welcome to Fotographie! Want full size pics? or have question on pics? Email me @ brad.mckay@rogers.com
Saturday October 16th, 2004 - The Blog is Moving/Has Moved
Thats right everyone... Fotographie is moving... Unfortunately, I hate to move it, because I'm sure I will lose some people who used to come here... although the archives from May till the end of September will still be at fotographie.topcities.com the new blog is located on at http://syn-photography.tripod.com/fotographie. So please check it out please... still good pictures, just on a different format. once again the site is http://syn-photography.tripod.com/fotographie. Thank you all for your support since the beginning.
By the Way, I added the October 4th one to my template long ago.. like on October 4th, but I couldn't get it to upload. So I was going to wait.. but on October 5th, 2004 my friend Mark Lee died in a car accident at the age of 22. Since then I really havent had the gumption to put anything on... I find it odd that I was going to name this post "destruction to the max" then Mark got into a car accident where his car was destroyed... maybe a premonition, although I wasn't concious of it. Fotographie is just a blog and I thank you all for visiting, I just hope you all understand why I wouldnt have posted in the last couple weeks.
RIP Mark - July 20th 1982 - October 5th 2004. Goodbye Mark, you were a good friend and I will miss you.
Monday October 4th, 2004 - Destruction... to the Max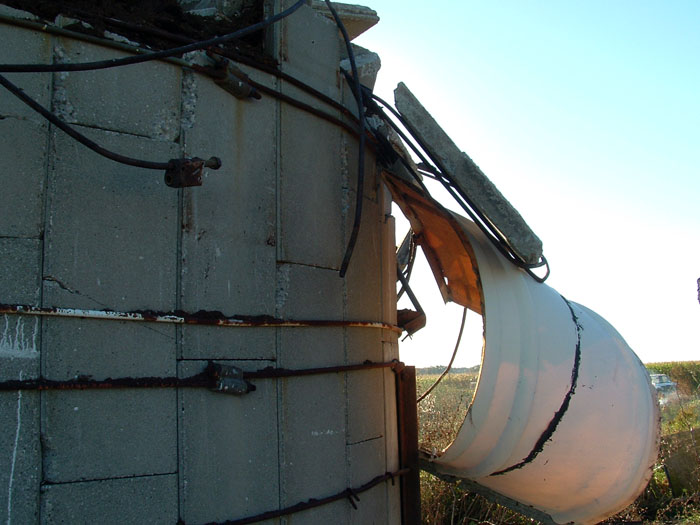 (Taken September 30th @ 5:28pm)
This is what's left of the silo at Megans house... unfortunately, when the silo got knocked over, nobody called me or Megan to let us know, so I only have after pictures of it -___-... but oh well... I like this one.
FOR DAYS PRIOR TO THIS DATE VISIT THE ARCHIVES @ http://fotographie.topcities.com ALL MAY, JUNE & JULY, AUGUST and SEPTEMBER PICTURES AT FOTOGRAPHIE ARCHIVES
All content on this website is © of Brad McKay unless otherwise posted
©2004 Brad McKay.